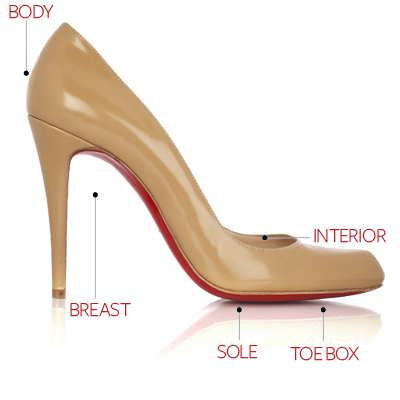 Know Your Shoe
THE BODY: If a stiff shoe causes blisters, spritz this area with water and use your fingers to mold the softened leather to the shape of your foot or try inserts to reduce friction.

THE BREAST: The inner arch of the heel, which affects stability. The farther forward the arch, the less you will feel off-balance.

THE SOLE: Slipping on slick floors? Pick up a pair of sole protectors or score the soles of your heels with a key to create extra traction.

THE TOE BOX: If your toes feel pinched, have this area stretched out at your local shoe repair shop.

THE INTERIOR: If you suffer from low arches, slip in supports to relieve pressure on the balls of your feet.
Shoelosophy notes: Many say the price one pays to look good is PAIN. Follow the above simple tips and you will feel much needed relief. 
Source :InStyle