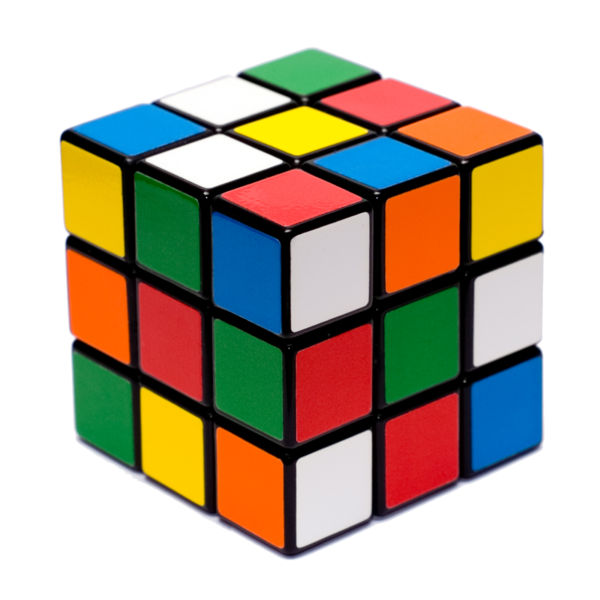 The Rubik's Cube is a little Object designed to keep many people busy for hours (I personally get fed-up trying to match the colours, pull it apart and click each square into it's correct place). 
But have you ever thought of using a Rubik's Cube as a piece of Art? ...
What if it was used as a Medium to create Masterpieces? Well, one such Organisation, called Cube Work's Studio does just that. 
Cube Work's Studio is World-Renowned for twisting Rubik's Cubes into stunning, cutting-edge works of art. The Studio is focused on pushing the boundaries of modern art by using the brightly-coloured cubes as a distinct and universally identifiable medium. 
Their works include original creations, Pop-Art references, as well as a focus on some of the more identifiable Cultural Icons of our generation. Just take a look below:
'Eternal', 360 Rubik's Cubes
'Ribbon', 360 Rubik's Cubes
'Falling Apart', 440 Rubik's Cubes
'Jimi', 432 Rubik's Cubes
'A Starry Night',  2'700 Rubik's Cubes
'Audrey', 640 Rubik's Cubes
'Soup Time', 480 Rubik's Cubes
'Beatles', 200 Rubik's Cubes each
'Edward', 450 Rubik's Cubes
Some Photos of their Exhibitions:
Various Works, 450 Rubik's Cubes Each
Various Works on display
Cube Works Studio's Most Impressive Work:
The Hand Of God (the centerpiece of Michelangelo's Sistine Chapel), recreated in Rubik's Cubes, is the largest Rubik's Cube piece of art, measuring 14′ 7″ H x 28′ 10″ W (4.27m x 8.53m) and comprises of 12'090 Rubik's cubes. (WOW!)
'The Hand Of God', 12'090 Rubik's cubes.
The process of creating The Hand Of God
So, the next time I pick up a Rubik's Cube I think I may just have a bit more respect. 
If you are Q-rious to see more artworks from Cube Works Studio's, click here.
All Photos Compliments of the Cube Works Studio Website